Dr. Chris Oswald
BSC Chiropractor
CEO, Founder, Professional Therapy MuscleCare
Background
Dr. Chris Oswald owns and operates one of Canada's leading chiropractic clinics in Toronto, Canada. Nationally ranked athletes, leading Canadian performers and musicians, and members of Toronto's business elite are among his patients.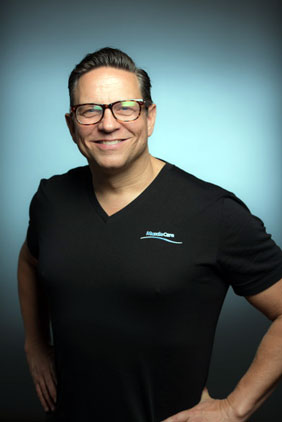 He received his Bachelor of Science, specializing in Human Biology & Human Kinetics, from the University of Guelph in 1984 and graduated as Doctor of Chiropractic, from the Canadian Memorial Chiropractic College in 1988. Respected as one of North America's leading authorities, Dr. Oswald is a regular contributor and lecturer for the Canadian Memorial Chiropractic College, Northwestern Health Sciences University and the Canadian Chiropractic Association and was recognized by the Canadian Chiropractic Association as one of the professions top 20 leaders under 40 years of age. Dr. Oswald has written and delivered many lectures on future health-care trends, doctor-patient communication, stretching, exercising, and ergonomics.
Dr. Oswald's decision to create his own line of premium scientifically based ergonomic, health and wellness products was based on his dissatisfaction and frustration with existing products that fell short of their claims. His client base of 20,000 patients serve as an ongoing focus group for product ideas and testing based on real consumer needs. Chris, his three daughters, Shannon his perfect partner and their son live in Toronto and all enjoy a passion for sports and fitness.

The MuscleCare Team
Chief Marketing Officer
A seasoned Marketing Professional with significant experience of over 20 years. Robert jointed the MuscleCare team in 2012 as Chief Marketing Officer. He has a proven track record of success in product marketing, strategic planning, digital integration, branding, new business development, cause marketing and relationship management. Demonstrated leadership skills with sound judgment in dealing with important and sensitive subject matter An entrepreneurial spirit that motivates personnel and inspires partners. A strong retail B2C, B2B and C-Suite marketing practitioner with experience in all marketing disciplines. Global experience, including Canada, U.S.A. and Asia markets, working on some of the world's most recognized brands.
VP Operations
Gwynne MacHattie, joined MuscleCare Products in February 2007 as Controller and has since become the Director of Accounting and Operations, overseeing all aspects of finance and daily operations. She is an accounting manager with 25 years
Director, Product Development
Shannon Wright joined the MuscleCare team in March 2006 as Key Account Executive and after demonstrating hard work, dedication, and commitment, she assumed responsibility for daily operations. Shannon has worked in a variety of positions in a cross section of media properties including Tribute Magazine, Teen Tribute, Kids Tribute, Flare, The National Post, Saturday Night Magazine and Standard Broadcasting. Additionally, Shannon has worked at both Toronto Intercontinental Hotels and the SoHo Metropolitan Hotel. Shannon has a Fashion Marketing and Merchandising degree from Fanshawe College. Her love for fashion, art and design has proven to be a great asset at MuscleCare. As a fitness enthusiast, Shannon is active in volleyball, tennis, cycling and swimming.
VP Sponsorship/Marketing
Multifaceted professional with executive-level experience in event planning, fundraising, marketing, partnership-building, sponsorship, and organization-building as a leading consultant to the NFP and charitable sectors. Offers a sincere passion for driving positive change along with a track record of success in increasing awareness, participation, and funding for high-profile events and initiatives such as Centurion Cycling and Hardwood Ski and Bike. Louise brings a thorough understanding of best practices in brand development and messaging along with nuanced comprehension of legal facets of charitable status acquisition and NFP fundraising. Demonstrates exceptional communication and interpersonal skills harnessed in fostering strong sponsor partnerships, favorable media relations, and effective social media outreach along with a verifiable dedication to promoting active, healthy living for Canadians of all ages.
Marketing Team of Record
The MuscleCare team has partnered with Cheil, a technologically innovative creative agency that drives business success through best-in-class advertising. With a Global perspective and a local footprint, Cheil's client base is built on the foundation of Fortune 500 companies such as Samsung, and they create retail, digital and traditional advertising material that connects with the elusive modern consumer. Matt Cammaert, President With 18+ years' experience in advertising Matt has worked extensively across categories and brands: Samsung, Bank of Montreal, New Balance, Diageo, Yokohama, eOne, Unilever, GSK, Kraft Foods, Volvo and Evian to name a few. He's also worked for some of the largest Agency Holiding Co's, as well as spending time on the client side as a Marketing Planner with TD Bank on their retail business. Matt's reputation is based on his commitment to successfully grow clients business through effective and attention getting creative communication. In his spare time, he serves as a Board Member with Human Rights Watch, Board of Governors member with the ICA (Institute of Communications Agencies), and member of the Miami Ad School Advisory Counsel. He regularly judges national and international communications award shows. Meghan Sherwin, Vice President Planning Meghan believes that great strategy drives business results and has more than 15 years' experience delivering on that belief with some of the world's top brands. For more than a decade she has directed and globally led Fortune 100 clients such as Dove, Gillette and Kraft. Meghan has also served as an international award judge, most recently receiving the "2015 Outstanding Judge" award from the Global Web Marketing Association and continually speaks at national industry events. She has been featured by Google, Facebook, ThisMoment, Ten Thousand Coffees, Queen's University and Rotman School of Business. Always focused on best-in-class innovation, she was the founder and currently sits as the chairman of the global award-winning non-profit Safe Streets.