Pro Line
MuscleCare PRO line:
Stronger than anything we have formulated to date, the PRO line brings more innovative in absorption, time-release technology, intensity of pain relief, improved glide for tissue massage and 100 % CLEAN product. Designed for the health professional and patient that needs the best of the best topical PAIN, INFLAMMATION AND SPASM relief on the market.
Uses Safflower Oleosomes: Oleosome technology is an all natural innovation in high end cosmetics that enhance skin health and dramatically improve tissue hydration. These tiny plant oil microns transport all of the Musclecare ingredients, like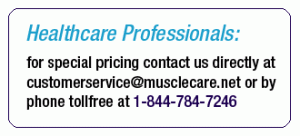 magnesium DEEP into the Muscles and tissues which have a fast effect on reducing muscle tension and SPASM. Safflower microns also have a burst technology which offer time release of Musclecare long after application.
FREE SHIPPING & HANDLING!
Showing all 4 results